Pirates come to Aquaparc from October 16 to November 7!
Pirates come to Aquaparc from October 16 to November 7!
Pirates come to Aquaparc from October 16 to November 7!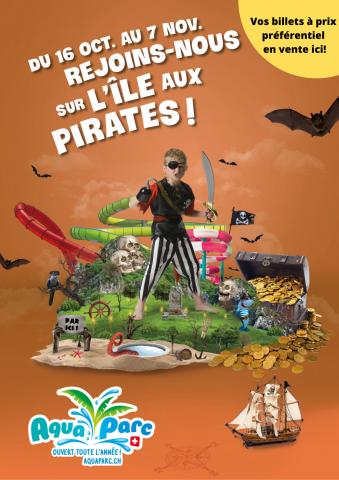 One thing is certain, there will be a lot of excitement during the autumn holidays in our partner institution Aquaparc . The pirates are back in the park and they intend to stay there for good. Fortunately, Sharky and his friends have no intention of letting their slides be stolen and are waiting for you to make life difficult for the pirates and rob them of their treasures.  
Many prizes to be won every day.
Pirate-themed entertainment is only possible with a wonderful treasure hunt. Chests will be placed in the park each day and visitors who find the keys hidden in the Aquaparc grounds will leave with the contents of the chest like real pirates.
To give all the children a chance to win a gift, a pirate will be set up by the wave pool each afternoon with his magic wheel. Trying your luck will not be without risk, be careful if you fall on the "watering" box...
The next autumn holidays will also mark the first anniversary of the new Sharkyland area dedicated to families with young children! On this occasion, visitors who come to Aquaparc on 23 and 24 October will be able to leave with a paper photo taken with Sharky as well as with new gifts.
A pirate atmosphere adapted to the youngest visitors.
The park's decoration will plunge visitors into the world of pirates, with a few nods to the Halloween period. However, the atmosphere is designed to suit the youngest children and to ensure that they have a peaceful visit. 
If you want to benefit from this "partner" offer at the rate of CHF 33 which is reserved for members of the Staff Association, kindly contact the secretariat of the SA.
Following the Federal Council's announcements of 8 September 2021, the COVID Certificate and an identity document will be required to access the park. The obligation to present a certificate applies to people aged 16 and over.
Given the limited capacity, access to the park may be denied to visitors if the maximum number of users is reached. Therefore it is compulsory to book your visit to the parc via the dedicated form.
For more information you can visit the website of the Aquaparc.