AMBASSADOR'S COCKTAIL, WEDNESDAY, SEPTEMBER 28, 2022
AMBASSADOR'S COCKTAIL, WEDNESDAY, SEPTEMBER 28, 2022
AMBASSADOR'S COCKTAIL, WEDNESDAY, SEPTEMBER 28, 2022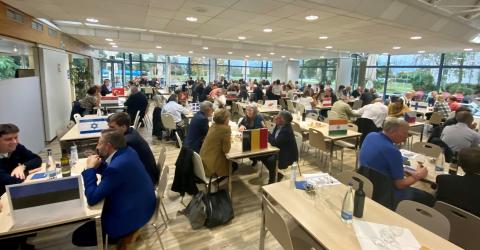 The Staff Association would like to thank all the people who make these events a success, our "ambassador" colleagues who are always available, as well as the catering and moving services who contributed to the success of our first cocktail party after COVID. We do not forget the secretariat of the Association for the organization and also the secretariat of the Council for sending invitations to delegations.
Twice a year, in March and September after the Finance Committee meeting, the Staff Association organizes a cocktail party bringing together delegates from the Member States and Associate Member States -- since 2017 -- with a few of our fellow citizens, chosen by the Staff Association to be "ambassadors" of the Association and the staff.
These cocktails are an opportunity to discuss with delegates certain topics selected by the Staff Association according to current events, but also to exchange more broadly about CERN and its staff. These discussions, which take place in the national language of each State and in a convivial atmosphere, also provide an opportunity to hear the positions and arguments of the national delegations.