It's Back to school time!
It's Back to school time!
It's Back to school time!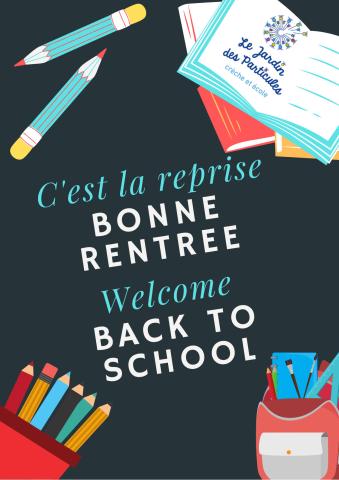 A new educational year is starting at Le Jardin des Particules.Le Jardin des Particules is a pre-school and school structure.
We offer a nursery service for children between 0 and 4 years old, and a school service for children between 4 and 6 years old. We are open from Monday to Friday, between 8am and 6pm, for a full day care, with a canteen service.
We are a human-sized structure, in a multicultural, rich and varied context. The child and the family are our privileged interlocutors, we take care of the child's well-being in constant consultation and collaboration with the parents.
Our multidisciplinary and experienced team offers a stimulating and creative environment, with an active and caring approach, based on the reflection of professional practices, observation and constructive dialogue.
It is with great pleasure that we present to you our new services for the 2022-2023 school year!
A new offer for Wednesdays: Discovery Wednesdays, for children between 4 and 8 years old.A day of care, between 8am and 6pm, according to your needs: in continuity over the year or on an occasional basis. 
Our educational team, accompanied by team leaders from the various CERN Clubs, will offer your children stimulating and varied activities on various themes: music, sports, creativity, science, nature, learning English and more...
A new occasional care: offers the possibility of enrolling your child in the crèche or school when needed, for a day (from 2 years old) or a week (from 6 months old).
More information is available at this link: http://nurseryschool.web.cern.ch
We are looking forward to welcoming your children and sharing with them a new educational year, which promises to be full of novelties and opportunities!
The pedagogical direction of Le Jardin des Particules
Roberta Cavigliasso