The Staff Association and the protection of personal data
The Staff Association and the protection of personal data
The Staff Association and the protection of personal data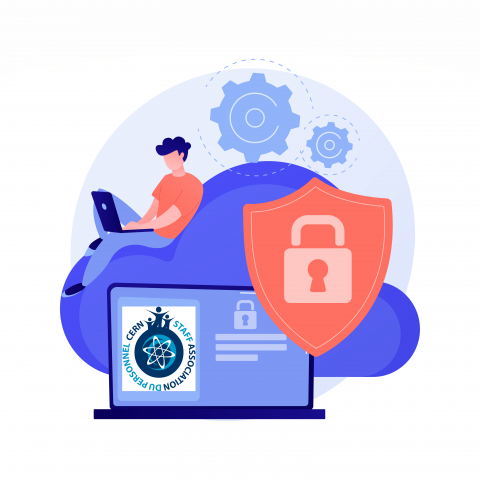 The Staff Association, like all services of the Organisation, must comply with Operational Circular 11 (OC11), concerning the protection of personal data.
Privacy Notices for activities within the Association have been finalised and published to ensure the proper handling of personal data.
The following RoPOs have just been published:
- "Management of members", which covers all potential events during the life of a member of the Association from joining to resigning, but also your enrolment for loss of earnings insurance through the Association, elections of your delegates, etc.
- "SA Christmas Party", which describes the management of data during the organisation of the Christmas party for the children of staff members, which is organised by the Association every year
- "Staff Association communication", which describes the management of data in all communications that the Staff Association may make as part of its official mandate, and
- "Staff Association Survey: 5-yearly-review",which describes the data management in the surveys that the Association sends to members of personnel to find out their expectations in order to best prepare for the five-yearly reviews.
The Association's website and communications sent out by the Association have also been updated with the link to the relevant RoPO.
Other administrative processes have also been adapted and brought into conformity. The most notable example is the process concerning the collection of Staff Association's membership fees.
As you already know, membership fees are currently collected by the Organisation's Salaries Office (this process is applied for holders of LD, IC contracts and for fellows ).
In this context, the information exchanged between the Salaries Office and the Association's secretariat has been reduced to the data only necessary for the control of the total amount of the membership fees collected.
In addition, for each step of the membership form used by the Association, more specific authorisation requests have been added or modified, to make them explicit, following the recommendations of the organisation's Data Protection Advisor (DPA), Gabriele Thiede, of the Data Protection Office (ODP).
The ODP welcomes the Association's significant efforts in ensuring regulatory compliance with Operational Circular No. 11 and its commitment to respecting the confidentiality of personal data and the privacy of its members.
The Staff Association gratefully acknowledges the assistance and support of the ODP in guiding us through the changes.
In conclusion, the Association hopes that these improvements have brought greater transparency in the way it handles personal data - transparency that ensures a relationship of trust with its members and CERN personnel.