CONFERENCE - SUPPORTING EMERGENCY RESPONDERS IN TODAY'S HUMANITARIAN CRISES
CONFERENCE - SUPPORTING EMERGENCY RESPONDERS IN TODAY'S HUMANITARIAN CRISES
CONFERENCE - SUPPORTING EMERGENCY RESPONDERS IN TODAY'S HUMANITARIAN CRISES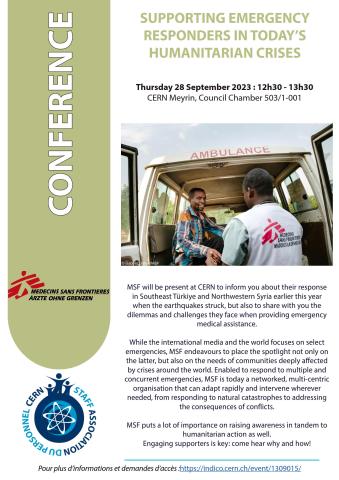 MSF will be present at CERN to inform you about their response in Southeast Türkiye and Northwestern Syria earlier this year when the earthquakes struck, but also to share with you the dilemmas and challenges they face when providing emergency medical assistance.
While the international media and the world focuses on select emergencies, MSF endeavours to place the spotlight not only on the latter, but also on the needs of communities deeply affected by crises around the world. Enabled to respond to multiple and concurrent emergencies, MSF is today a networked, multi-centric organisation that can adapt rapidly and intervene wherever needed, from responding to natural catastrophes to addressing the consequences of conflicts.
MSF puts a lot of importance on raising awareness in tandem to humanitarian action as well. 
Engaging supporters is key: come hear why and how! 
Médecins sans Frontières (28 September 2023): Overview · Indico (cern.ch)