Special Public Meeting devoted to Associated Members of personnel
Special Public Meeting devoted to Associated Members of personnel
Special Public Meeting devoted to Associated Members of personnel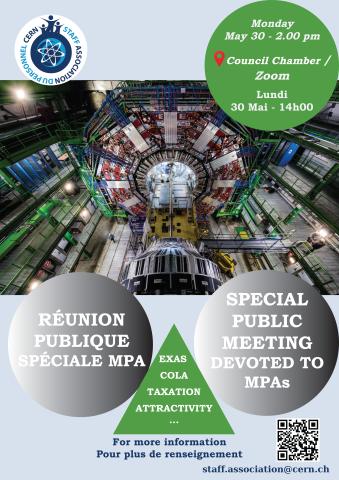 The Staff Association is organising a Special Public Meeting devoted to "Associated Members of personnel (MPAs)". 
Monday 30 May at 2.00 p.m.
Council Chamber 503/1-001
This meeting will be an opportunity to give you the latest information on subjects of concern to MPAs such as COLA, taxation, EXAS status, etc.
If you are unable to attend, you can also participate via Zoom. All the necessary information is available on Indico: https://indico.cern.ch/event/1158082/
Don't miss this opportunity to get up to date with the latest news and to speak directly with representatives of the Staff Association!