Première réunion du Comité de concertation permanent (CCP) du 4 février 2021
First meeting of the Standing Concertation Committee (SCC) on 4 February 2021
First meeting of the Standing Concertation Committee (SCC) on 4 February 2021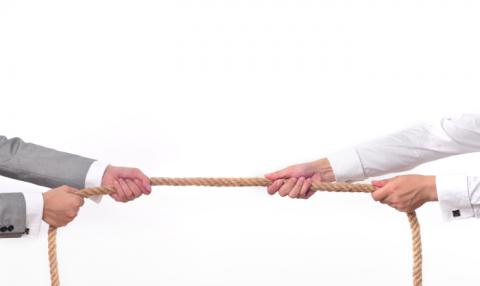 Mr. Raphael Bello, Director of Finance and Human Resources and new President of the SCC, and Mr. Manfred Krammer, Head of the EP Department, joined the management delegation at this first meeting of the year.
The management delegation, representing the Director General, is now composed of Mr. Raphael Bello, Mr. Kramer, Mr. José-Miguel Jimenez, Mr. James Purvis and Mr. Florian Sonnemann.
The delegation of the Staff Association (SA), representing all members of personnel, was, at this meeting, composed of Ms. Isabelle Mardirossian, Mr. Joel Lahaye, Mr. Sebastian Evrard, Ms. Antonella Vignes-Magno and Ms. Almudena Solero.
Before examining the agenda for the meeting, the Staff Association requested that Management take a position on one of its most fundamental and urgent issues: The continuation of the Organization's collection of membership fees from the Association's members.
The Director of Administration, President of the SCC, proposed bilateral discussions between Management and the SA on this issue. 
Given the urgency of resolving this issue (and the inconvenience of discontinuing this practice, which has been in place since the creation of CERN) and to allow Management to consider its position, the Staff Association requested that the SCC meeting be suspended. Unfortunately, the meeting was adjourned.
The Staff Association hopes that the bilateral discussions will have a satisfactory outcome for all parties and that this outcome can be endorsed at the next SCC meeting on March 11.
Note: SRR-Art. S VII 1.07, "Discussion means a procedure where by the Director-General and the Staff Association concert together to try to reach a common position". The concertation procedure is to plan in concert with one or more persons in order to attempt in good faith to construct, elaborate and discuss a common position.
_____
A few details:
The Staff Association is the only statutory body of the Organization through which relations between the personnel as a whole (MEP and MPA) and the Director General are established.
Since the creation of the Staff Association, shortly after CERN's establishment, the Organization has been collecting membership fees from the members of the Association on a continuous basis and free of charge.
The Management has unilaterally announced its intention to cease this practice, without giving any valid objective reason or proposing a realistic alternative.