CERN CHOIR
CERN CHOIR
CERN CHOIR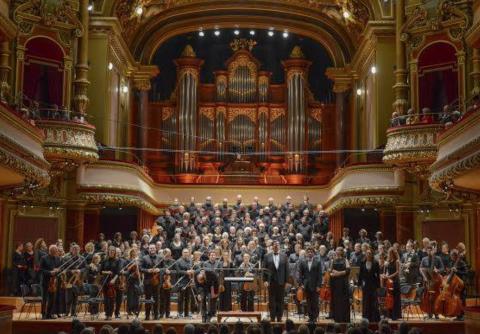 Resumed its activities on the 7th of September, with the preparation of a new and exciting program: A. Dvorak's Sta- bat Mater (the concert takes place on the 19th and 20th of November 2022 in Ferney-Voltaire and Annecy) and G. Verdi's famous and challenging Requiem (this performance is scheduled for the 14th of September 2023 in "Victoria Hall" in Geneva). For the new program, we collaborate with several other excellent choirs around Geneva, incorporating the French area.
The planning of our projects for last school year 2021-2022 was quite difficult due to the unstable and fragile sanitary situation and several of our planned concerts were postponed. In spite the difficult situation we rehearsed several works and we were able to give a few concerts.
The Choir got an invitation to give the Missa di Requiem by Gaetano Donizetti during the « Musicales de Compesières » in November 2021. The concert was fully financed, including musical direction, soloists and musicians. The concert was very well received by the audience that filled the church.
In spite shortage of time last spring, the choir decided to pre- pare a concert including the Te Deum by A. Rejcha and other smaller works by Cherubini, Haydn and Rossini, with soloists and organ. These efforts resulted in a successful performance on the 19/6 2022 with, again, a very enthusiastic audience filling the Néo-apostolic Church of Geneva.
If you are interested to participate in our activities and want to get an impression, please come and listen to a rehearsal! They take place on Wednesday evenings in the CERN Auditorium. And come to our concerts! The CERN choir offers the possibility to sing classical music and gives the great opportunity to perform choral music within a professional environment (direction, orchestras and soloists). For the new program 2022-23 our choir needs more singers ready to engage to make our concerts successful and at the same time enjoying our rehearsals and our choir life!