Emergency Covid-19: Appeal for Donations
Emergency Covid-19: Appeal for Donations
Emergency Covid-19: Appeal for Donations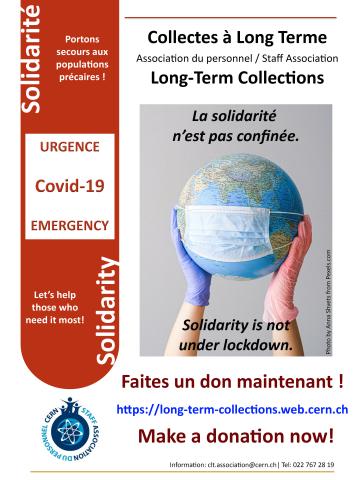 Help those most in need by participating in the Long-Term Collections!
Since 1971, the Long-Term Collections (CLT) have supported 77 humanitarian projects throughout the world, thanks to donations from CERN personnel.
Dear "Cernois" Colleagues,
Almost 50 years ago, a group of colleagues created the CLT in order to give a little of what life had offered them here at CERN, in a context of peace and security, to those who were not so fortunate elsewhere... This is still true! And since then, other colleagues have pursued the same goal, with the help of regular donors from the personnel.
But today, we are facing an emergency. In the current global health crisis, the situation of those populations most in need is dramatically deteriorating. This is the message we are consistently hearing from the associations supported by the CLT, who continue to act in the field and with whom we are keeping in touch. They tell us of alarming difficulties linked to the pandemic and the resulting collapse in people's livelihoods. Indeed, representing, as it does, a vital resource for many, the drop in income resulting from the cessation of tourism and other activities following successive confinements is having a devastating effect on communities that are already very fragile.
This is why we are planning to help at the end of 2020 by making a one-time donation to associations that we know well, having recently accompanied them in a variety of successful projects. They are active in Brazil, Ecuador, Haiti, India, Kenya, Mali, Mexico, Senegal, Sri Lanka...
As always with the CLT, our support will be on behalf of the CERN personnel and its extent will depend on your generosity. Hence we are launching this appeal, asking you to help vulnerable populations at the end of this most exceptional of years.  We are counting on you!
To respond to this emergency fundraising appeal, please send a donation to CLT mentioning EMERGENCY COVID-19:
UBS Account: 279-C7758123.0 (IBAN: CH22 0027 9279 C775 8123 0)
Postal account : CCP 12-2831.1 (IBAN: CH39 0900 0000 1200 2831 1)
For more details on the associations supported by CLT around the world, please take a look at the list of our projects.
If you have any questions, you are welcome to contact us by email.