Concert of the CERN Choir
Concert of the CERN Choir
Concert of the CERN Choir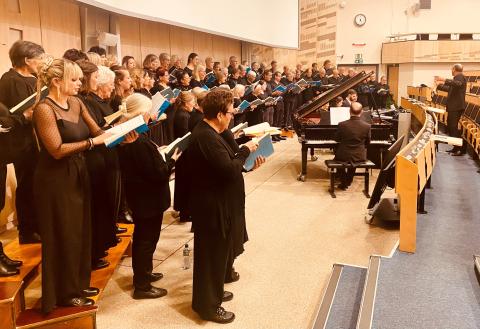 On the 23 Nov 2022 we had the pleasure to hear the CERN Choir performing the "Stabat Mater" (A. Dvorak), a widely known Christian-spiritual piece with origins deep in the middle ages.
Listening to such a masterpiece is always a voyage in time requiring a certain trained ear and some concentration. The audience travelled very well indeed, the Choir, soloists and the grand piano having no problem to fill the CERN auditorium with the spirit of the piece. We were invited to an intense musical experience, performed highly professionally and with precision, exquisitely structured and coloured with the soloist's voices and personal expressions. This is no easy feat considering the number of musicians contributing! 
The concert ended with a huge, long and very warm and thankful applause; obliging the musicians to acknowledge three times... we did not have such spiritual music at CERN for a while, thank you for this!